5 Tips For A Safe Halloween From A Pedestrian Accident Lawyer
October marks the start of the holiday celebrations. Halloween is a popular holiday with people of all ages. It's a time to dress up, enjoy others' company and enjoy the free candy. However, we must be aware of the potential injuries that accompany this holiday. Halloween is known as the deadliest day of the year for child pedestrian fatalities. These fatalities can be prevented through proper preparation. Here are some safety tips that we should keep in mind during this Halloween season from a trusted pedestrian accident lawyer.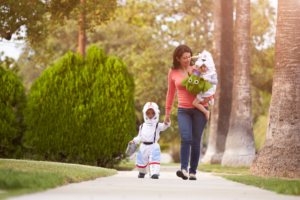 How to Stay Safe During Halloween in 5 Steps:
Diligently Plan Your Route– If you decide to take your child trick-or-treating, then you should first scope out the location and have a route planned out to avoid pedestrian injury. Remember to go to neighborhoods that are well-lit and heavily populated, try to skip areas that you are unaware of. Make sure to keep track of the homes that your children are going to and ensure that drivers are on high alert to ensure you and your loved ones are safe from personal injury.
Have a Designated Meeting Place– In case anyone strays from the original route or plan, have a meeting place to meet up just in case. This meeting place can result in less personal injury and allow the group to continue.
Follow Traffic Signals– When walking across an intersection or crosswalk, you should always wait to proceed until given the go-ahead. You should also look both ways and listen for oncoming cars before crossing. This will help you avoid pedestrian injury with a distracted driver.
Choose Your Costume Wisely– When choosing a costume for Halloween, it is important to remember the following. First, you should choose a reflective fabric or bright color, as this will help you remain visible to drivers when you're walking down the street or sidewalk. While having bright colors may not seem as spooky, it will keep your family safe from personal injury. The second thing to think of is to make sure that your costume fits properly. If your costume is too big, then you are increasing your odds of tripping and becoming involved in a pedestrian injury incident. Third, make sure you can see through your mask to ensure you can see drivers and dangerous circumstances.
Avoid Drinking and Driving– With Halloween parties fully in swing, alcohol is typically served for the enjoyment of adults. If you choose to engage in drinking and partying, then please refrain from getting behind the wheel. Take advantage of ridesharing applications like Uber and Lyft, instead of potentially putting yourself and others in a pedestrian injury accident.
At Bear Republic Law, we care about you and your loved ones' safety. We want you to fully enjoy your Halloween plans with more treats than tricks. However, if you are injured in an accident this Halloween, contact an experienced pedestrian accident lawyer for legal help.